A VR program that allows people to spend a total of 130 hours a week experiencing life in the metaverse – VRChat. Users can experience two lives through a physical body in VRChat, which raised $80 million in Series D funding in 2021. This article will introduce VRChat's fundraising and its commercial potential.
Introduction to VR chat
Founded in 2014, it has raised up to Series D with a total funding of $95.33M and has raised nearly $80M in the past two years. VRChat was founded in 2014 and was released on Steam in 2015, supporting PCs and causing a stir. In 2017, angel round funding began with HTC leading the investment.
In September 2017, a new Series A round of funding was launched, raising $7M. Seeing this amount may make you feel that this is just an unremarkable startup company.
Since 2021, VRChat has consciously combined online and offline activities, including hosting online VR awards, collaborating with famous singers such as Jean-Michel Jarre to host online concerts, Gucci virtual shoes can be used in VRChat, etc., successfully attracting investors' attention and attracting a new round of Series D funding of $80M in June 2021 led by Anthos Capital.
In the past, Japan has released documentaries about VRChat users, showing users immersed in the world of VRChat, from playing games and drinking to sleeping in the world of VRChat (see: https://tver.jp/episodes/epkl3z2lsa). VRChat has a strong stickiness for its players.
VRChat ranks second in the number of online players in the VR category on Steam DB and ranks in the top 70 in the overall number of online players for Steam games, showing the popularity of VRChat in the VR category.
VR Chat Service Content VRchat brings players the experience of 'one body, two lives' and real friendship in a virtual world. This is the strongest feature of VR Chat that cannot be replaced by ordinary social software.
It is built on another virtual world where players can freely choose their own virtual avatar and appearance. After choosing their avatar, players can make detailed social settings, such as categorizing different people.
For example, avatars that have never been seen are muted by default, while avatars on the friends list are not muted. If you encounter a harassing crowd, you can mute them directly or make them transparent.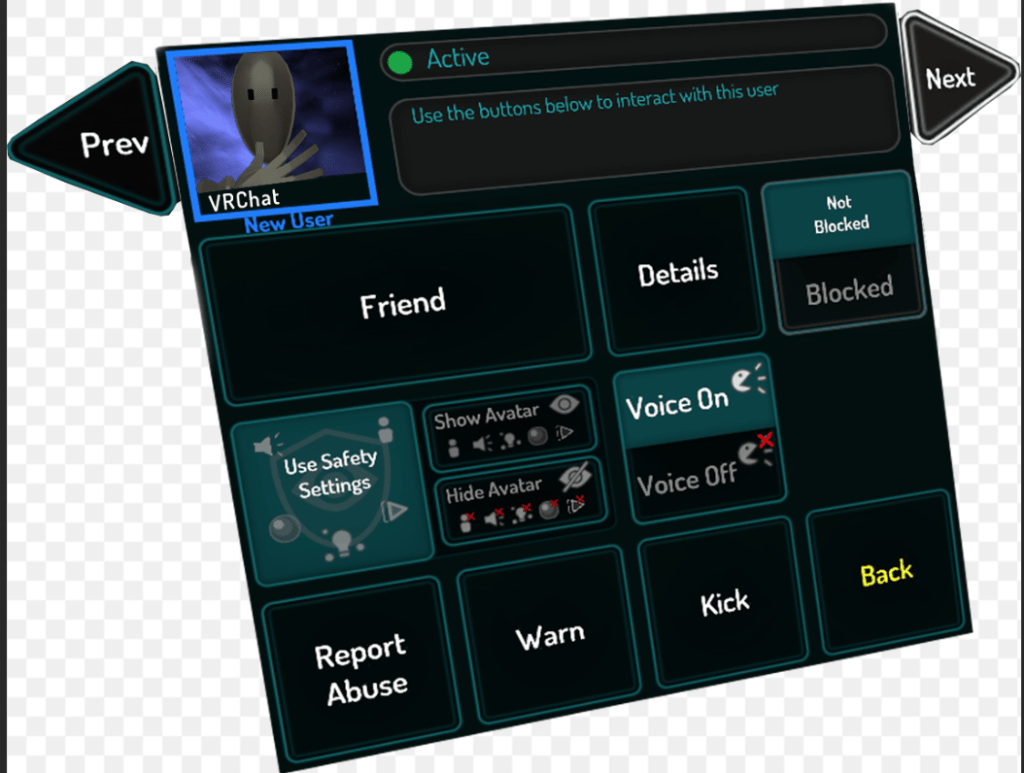 Players can choose to enter different worlds (spaces), each with a different theme, including aviation centers, izakayas, and bars. And in the virtual different worlds, it is normal to walk around and chat casually. This is different from the real world where chatting is often more difficult.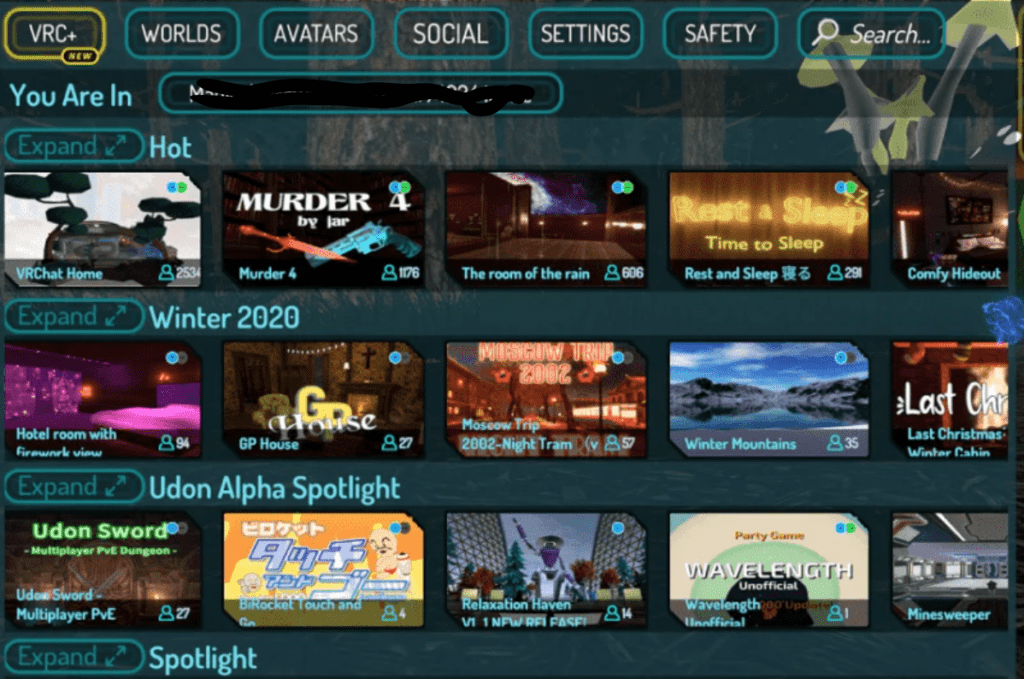 Players can send friend requests and if successful, they can see if their friends are online and in which worlds they are playing. VRChat claims to have over 25,000 worlds, which are mainly divided into two types: game/activity-related worlds and relaxation/chat-related worlds. Game/activity-related worlds are simple mini-games such as bowling alleys and billiard halls; the second type of world includes bars, nightclubs or other more relaxing worlds.
VR chat usage
How many users are on VR chat? According to Steam data, there are an average of over 20,000 users using VRChat through the Steam platform daily, with a peak of over 46,000 users during peak hours. However, this is only data from the Steam platform and does not include data from other platforms such as Oculus.
Although the overall user data has not been made public, if we refer to what the founder of VRChat mentioned in November 2020 that VRChat had 24,000 active users, benefiting from the launch of Oculus' Quest2, with nearly half being VR device users. And referring to Steam data with around 12,000 users, it can be estimated that if there are currently 20,000 users on the Steam platform, there are at least 40,000 users in use. However, this estimate still has considerable problems because Quest2 was launched in October 2020 and since its launch, it is estimated that 10 million devices have been sold.
Therefore, when estimating the specific number of users based on the content of the VRChat founder's speech in November 2020, it may lead to excessive distortion of data. Especially since the VRChat founder emphasized that it benefited from the launch of Oculus and generated many users. Even so, it should still not reach the level of millions of users.
VR chat's economic model (how to generate revenue)
Ways to generate revenue
Subscription
In 2020, VRChat introduced a paid subscription service called VRChat Plus. Users can pay $9.99 per month or $99.99 per year (the annual plan is only available to Steam users) to access features such as being able to name specific personalized tags, save more avatars, have a paid blue checkmark-like symbol, and increase their trustworthiness in the game.
Online store merchandise
Online store merchandise sales Players can purchase physical merchandise from VRChat, including branded clothing and mobile accessories. Growjo estimates VRChat's revenue to be 1M per year, while another website estimates it can earn $13.4M per year. (View Source). These two numbers are quite different and it is currently unclear what VR Chat's valuation is.
According to estimates, the valuation is estimated to be between 300M-480M.(source:dealroom.co)
VR chat analysis
VR chat follows a freemium model, offering free communication features but requiring payment to unlock further features. This freemium model is also used by communication software such as Discord and Telegram. It is difficult for communication software to get general users to pay for more features because they are already satisfied with the basic communication and social connections provided by the software. Whether using paid features will help achieve their goals is a big question for general users. Therefore, the focus of the communication software's paid model is usually on attracting a larger user base through the free mode, which can then attract business accounts to use the program for their own service/product sales or to attract users who are willing to pay for the company. For example, Discord has successfully allowed companies and individuals who manage communities to pay for more services in order to achieve their goals and manage their communities.
However, even without providing community management features like Discord, users are still willing to continue paying for VRChat because the features it offers are almost impossible to satisfy with other communication software. Providing users with a real social selling point of living a second life in a virtual world is difficult to replace. So users are willing to invest in conspicuous consumption on themselves, such as accessories, skins or any props that attract attention from others. As VRChat's CEO said, the release of Oculus' VR headset has greatly increased its popularity. Although VRChat can be accessed through a PC, the experience is very different from using a VR headset.
Highlights
With a limited paid model, it is rumored to be able to generate 13.4 M USD in revenue per year. If it gains wider use and is combined with other VR game ecosystems, it has great potential for growth: VRChat has accumulated some users and enjoys a certain reputation among player communities. Reasons for difficulty in achieving mass adoption
Because VRChat is not like mobile social software or communication software, it cannot be used simultaneously with other VR games while playing VRChat. This means that when users enter VRChat, their core purpose is purely social and cannot effectively interact with other programs: The majority of players should be VR headset users, so its development is limited by the number of VR headsets adopted; The development of the metaverse ecosystem is still limited and it is difficult to attract IPs and KOLs to operate communities. However, although VR chat adopts a user-paid model, there is currently no way for businesses to effectively operate their communities or successfully monetize these communities. Therefore, the adoption by businesses is not as hot as Discord.
Even so, VR Chat has already generated revenue from enthusiastic players subscribing to paid services under its limited charging model and has attracted many enthusiastic players to participate, showing its potential. In the future, if more online and offline events can be launched, VR headsets are widely adopted, the metaverse ecosystem takes off, and businesses can operate communities and monetize them within it, VRChat definitely has the potential to become the dominant social software in the metaverse.